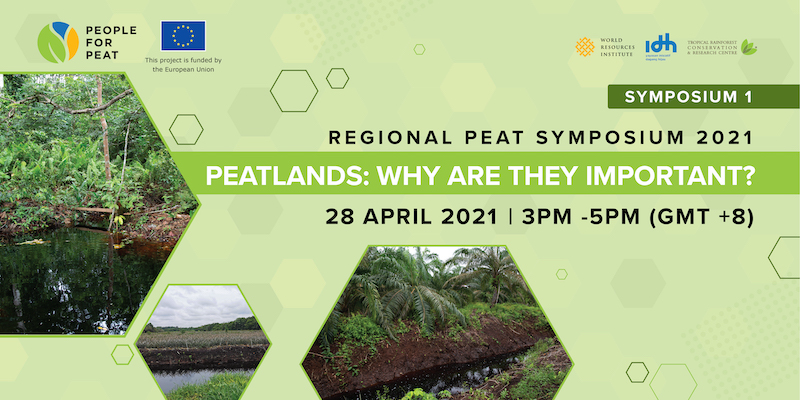 Regional Peat Symposia 2021 Series 1, Peatlands: Why are They Important?
Copy Link
Link successfully copied
Share
Apr 28, 2021 - Apr 28, 2021
Malaysia
Data & Information
+62818682809
info@peopleforpeat.org
We begin the Regional Peat Symposia with the theme, "Peatlands: Why Are They Important?" where we discuss the underlying topics and issues pertaining to peatland governance, management, and its ecosystem services.
This event will be running accordingly with the timezone GMT +8 (Malaysia, the Philippines). Kindly register via Eventbrite in the link here

[REGISTRATION FOR REGIONAL PEAT SYMPOSIA SERIES 1, PEATLANDS:WHY ARE THEY IMPORTANT?]

Schedule

5:00 - 15:10:
Opening Remarks
People for Peat
15:10 - 15:30:
Peat & Haze: Why Haven't We Solved This?
Dr. Helena Varkkey, Universiti Malaya (Malaysia)
15:30 - 15:50:
Peat Water Management - Importance, Challenges, and Opportunities
Dr. Ir. Salmah Zakaria, Academy of Sciences Malaysia (Malaysia)
15:50 - 16:10:
Tropical Peatlands: Has Temperate Peatland Management Taught Us Anything?
Prof. Hans Joosten, International Mire Conservation Group, Greifswald Mire Centre, University of Greifswald (Germany)
16:10 - 16:30:
Ecosystem Services Provided by Peatland Landscape
Prof. Susan Page, University of Leicester (United Kingdom)
16.30 – 17.00:
Panel Discussion and Q&A
Invited Speakers