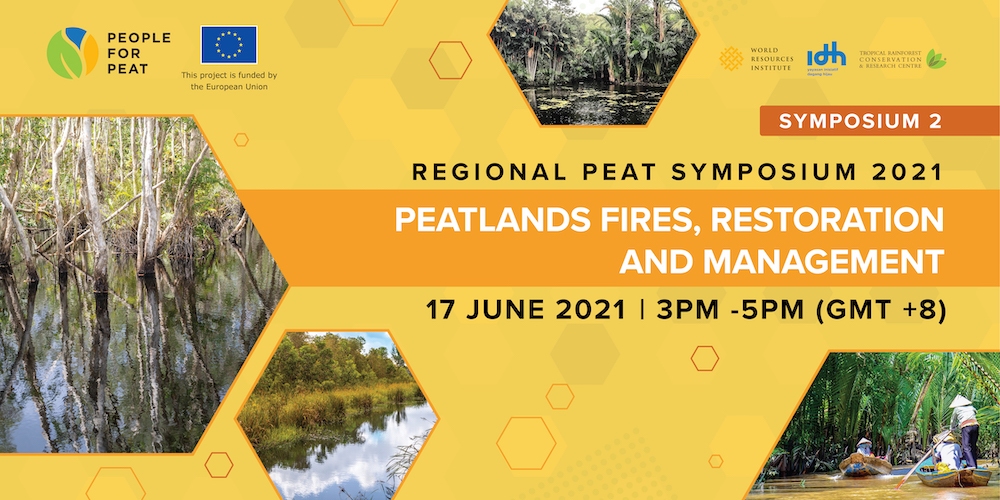 Regional Peat Symposia 2021 Series 2, "Peatlands Fires, Restoration, and Management"
Copy Link
Link successfully copied
Share
Jun 17, 2021 - Jun 17, 2021
Philippines
Business & Investment
+62818682809
info@peopleforpeat.org
The second series is a continuation of the fire capacity building workshop that was held on 8th April 2021. In collaboration with the Philippines non-stake actors, we took a deep dive on recommendations to reduce fire occurences. This session will continue the discussion by outlining the current situations faced by stakeholders and higlighting the data approach that is practiced across the region.
This event will be running accordingly with the timezone GMT +8 (Malaysia, the Philippines). Kindly register via Eventbrite in the link here
[REGISTRATION FOR REGIONAL PEAT SYMPOSIA SERIES 2, "PEATLAND FIRES, RESTORATION, AND MANAGEMENT]
Schedule
15:00 - 15:15:
Opening Remarks
People for Peat
15:15 - 15:20:
Philippines Case Study: IIRR-PFP Workshop Outcome Sharing
Ms. Juvilyn V. Salazar, EnP (Leyte Sab-a Peatland Forest Restoration Initiative Project, IIRR Regional Center for Asia)
15:20 - 15:45:
Peatland Fires
Dr. Thomas Smith (London School of Economics and Political Science)
15:45 - 16:10:
Guiding Peat Forest Restoration using Historical Data
Dr. Peter Van Der Meer (Van Hall Larenstein University of Applied Sciences)
16:10 - 16:35:
Tropical Peatland Restoration: Katingan-Mentaya Case Study
16.35 – 17.00:
Panel Discussion and Q&A
Invited Speakers