Sep 27, 2021 by People for PeatBanner Image By : Ilham Unggara
Copy Link
Link successfully copied
Share
ISSUE 001 | SEPTEMBER 2021
Greetings Friends of Peat,
Welcome to the first edition of our People for Peat newsletter! People for Peat is a coalition that represents the second component of the Sustainable Use of Peatland and Haze Mitigation in ASEAN (SUPA) programme, supported by the European Union.
eople for Peat focuses on collaboration with non-state actors to improve sustainable peatland management through 3 key pillars:
We are so pleased to have you join us on this journey towards sustainable peatland management! So far, we have hosted the PFP Regional Peat Symposium, launched our PFP Business Hub Accelerator Programme, and finalised our Peatland Outlook documents as a result of the Conference of Parties held in each of our member countries.
| P E A T I N A S E A N |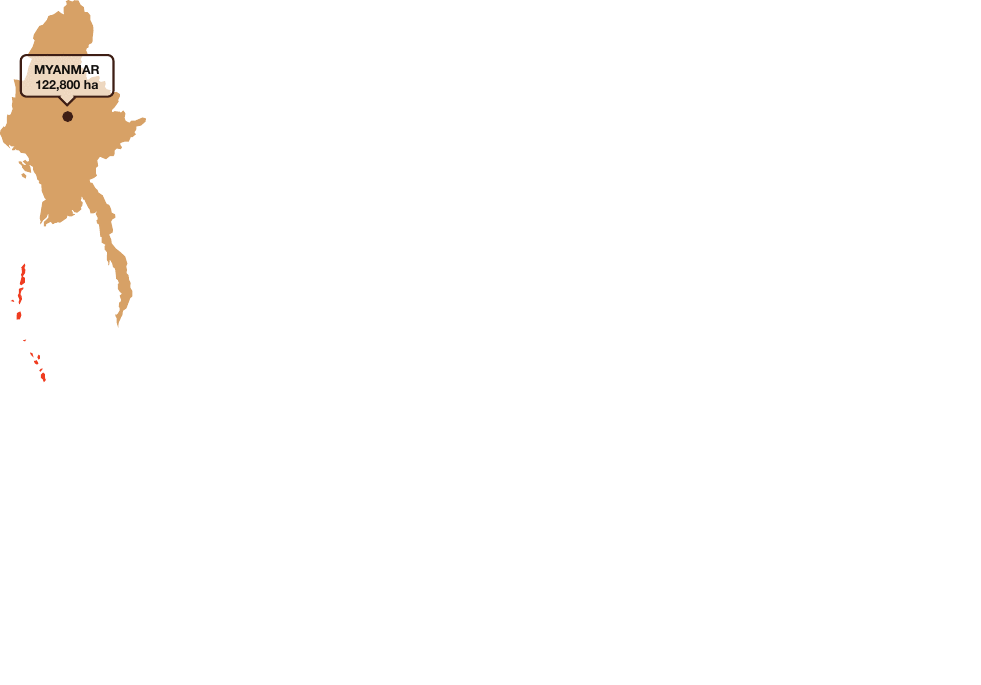 Source : aseanpeat.net
*Data displayed may not be fully representative of current peatland mapping estimates
Peatlands are the largest carbon store in the terrestrial biosphere, containing twice as much carbon as all the world's forests combined. Tropical peatlands in ASEAN cover an estimated 23.6 million hectares, making it the most dominant type of wetland forest.
| E V E N T S |
REGIONAL PEAT SYMPOSIUM : SERIES 5
The 5th and final edition of our PFP Regional Peat Symposium 2021, entitled 'Peatlands as Heritage and Community Learning Centres', featuring Dr Cherdsak Kuaraksa (Thaksin University), Ms Sumarni Laman (The Heartland Project), and Mr Shaq Koyok (Temuan Artist & Activist) was held on 19 August 2021.
The presentations highlighted the importance of local and indigenous voices in the conservation and sustainable management of tropical peatlands, and we hope that all attendees gained some useful insights into the cultural aspects of peat conservation in ASEAN. The synthesis of traditional knowledge and modern practices, and continuous engagement with local communities must be centred in our collective efforts to protect our tropical peatlands.
The full recording of this and all previous symposia can be found at the People for Peat Youtube Channel.
PFP ASEAN PEATLAND PHOTO CONTEST
The results are in for the PFP ASEAN Peatland Photo Contest! We received many stunning submissions, and we thank all participants for your amazing contributions.
A huge congratulations to the final winners:
Category 1 - People on Peat
Hazize bin San
Category 2 - Pristine Peat
Ilham Unggara
Category 3 - Peatland Degradation
Nopri Ismi
Thank you and do keep sharing and tagging us in your amazing peatland photos!

| S T O R I E S |
PEAT HEROES
This month's Peat Hero is Prof Dr Bambang Hero Saharjo, a forest fire forensics specialist and Professor of the Environment and Forest Fires from IPB University, Bogor Indonesia. Prof Bambang has published over 60 papers over his long standing academic career, contributing widely to the literature on peat fires and the myriad approaches to tackling the issue of transboundary haze.
He is one of a handful of scientists in the field who has been willing to act as an expert witness in court, having testified in over 500 cases since the year 2000. As a result, he has faced harassment, intimidation, legal action and death threats for his efforts, and yet, he continues to stand up for the Indonesian people and peatlands, fighting for the public right to a healthy environment.
In recognition of this courageous work, Prof Bambang was awarded the 2019 John Maddox Prize for Standing up for Science. Prof Bambang is an inspiration to environmental experts everywhere, paving the way for scientists around the world to show courage and integrity especially in the face of fierce opposition and hostility.

Professor Bambang Hero Saharjo is currently serving on People for Peat's esteemed Panel of Experts, sharing his expertise to help more businesses adopt sustainable peatland management practices.Professor Bambang Hero Saharjo is currently serving on People for Peat's esteemed Panel of Experts, sharing his expertise to help more businesses adopt sustainable peatland management practices.

Know someone who deserves to be featured on Peat Heroes? Send us an email at peopleforpeat@trcrc.org
PFP BUSINESS HUB KICKS OFF
And they're off! The 9-month PFP Business Hub Accelerator Programme starts on 7 September 2021, with a total of 6 Cohort Members and 8 Affiliate Members.
The members have hit the ground running, and will spend time building up their business, finance, and peat management capacity over the coming months. Our esteemed Panel of Experts will be working with them to finetune their ideas and ensure the sustainability and viability of their businesses, as they prepare to pitch to investors during the course of the accelerator programme.
Link for interested investors here
| N E W S O N P E A T |
International Peatland Congress (IPC) 2021
A recent study by World Resources Institute (WRI) Indonesia presented at the 16th International Peatland Congress 2021 calculated that the economic value of carbon storage within a peatland in Kahayan-Sebangau, Central Kalimantan, Indonesia is IDR340 trillion a year, or EUR20 billion. This value far outweighs the annual extractive value of IDR1.6 trillion. This study highlights the importance of preserving our tropical peatlands, both from an environmental as well as an economic perspective.
Read the rest of the conference proceedings here.
Kuala Langat North Forest Reserve, Malaysia
In September 2021, the Selangor State Government announced that they would re-gazette a portion of the Kuala Langat North Forest Reserve, a site that has been under great scrutiny due to a planned development project that threatened to destroy the remaining peat forest. This is a huge win for the activists and local residents who have campaigned for months to protect this important peatland.
Read more here.
Do you have an ongoing project with tropical peatlands?
Send us an email at peopleforpeat@trcrc.org.
| S P O T L I G H T |

This month, the spotlight is on Youth for Peatland, a community-led initiative out of Indonesia working to spread awareness about peatlands and their important role in the global fight against climate change. Check out their Instagram for Peat Facts and to learn about the flora and fauna that inhabit Indonesian peatlands.
| P E A T F A C T S |
---
QUOTE OF THE MONTH
"Restoration of peatlands is a low hanging fruit, and among the most cost-effective options for mitigating climate change."
IUCN UK Commission of Inquiry on Peatlands Full Report
IUCN UK Peatland Programme October 2011 page 8

To keep up-to-date with our future news and events, please subscribe to our newsletter.