People for Peat Initiates 2022 Virtual Regional Peat Symposium
Apr 13, 2022 by Mariam Kadir and Irene ChooiBanner Image By : null
Copy Link
Link successfully copied
Share
KUALA LUMPUR, MALAYSIA: The People for Peat coalition - also known as the Sustainable Use of Peatland and Haze Mitigation in ASEAN (EU-SUPA) Component 2 Programme - funded by the European Union, is happy to announce the return of the PFP Regional Peat Symposium.
The virtual 2022 Regional Peat Symposium, running through the months of April to August, will feature five (5) conferences with unique themes and two (2) workshops. The programmes are free and open to all. The symposium seeks to educate and share new knowledge in peatland management, as well as increase awareness on best management practices across all levels of society.
"Peatlands play an important role in addressing climate change, but they are often misused and abused. We would like to use this virtual symposium to encourage more stakeholders, especially implementers and landowners, to change their perception towards peatlands. That's why other than the conferences, we also have workshops where participants can deep-dive into some of our symposium themes and have in-depth conversations with the experts," says Satya Budi Utama, Senior Project Lead of People for Peat.
Although peatlands act as natural carbon stores to keep the earth cool, they are often undervalued and converted into agricultural land. Over the past decade, the practice across Southeast Asia of land clearing using fire and draining peatlands has turned such areas into carbon emitters, causing alarming quantities of greenhouse gasses to be released into the atmosphere, raising the earth's temperature and severely impacting the climate crisis.
In fact, an analysis from the World Resources Institute (WRI) in 2016 showed that the drainage of one hectare of peatland would produce an average of 55 metric tons of CO2 each year or equivalent to burning more than 6,000 gallons of gasoline.
"Tropical peatlands in Southeast Asia play a crucial role in addressing climate change and biodiversity loss. These peatlands were recently mostly converted into agricultural land and this has caused a chain reaction of environmental impacts, including land subsidence that results in flooding and land loss. To reduce further loss of carbon, nature and agricultural potential, urgent restoration action is required." say Dr Aljosja Hooijer (Deltares and National University of Singapore) and Ronald Vernimmen (Data for Sustainability and NUS), who will be sharing their knowledge on peatlands at the first symposium of the 2022 series.
People for Peat would like to open the discussion about peatlands and engage the global community, including stakeholders from the European Union, ASEAN Secretariat, researchers, students, NGOs, and other Non-State Actors through the series of five (5) symposiums, and two (2) workshops.
All events are free and open to the public and registration is available through https://peopleforpeat.eventbrite.com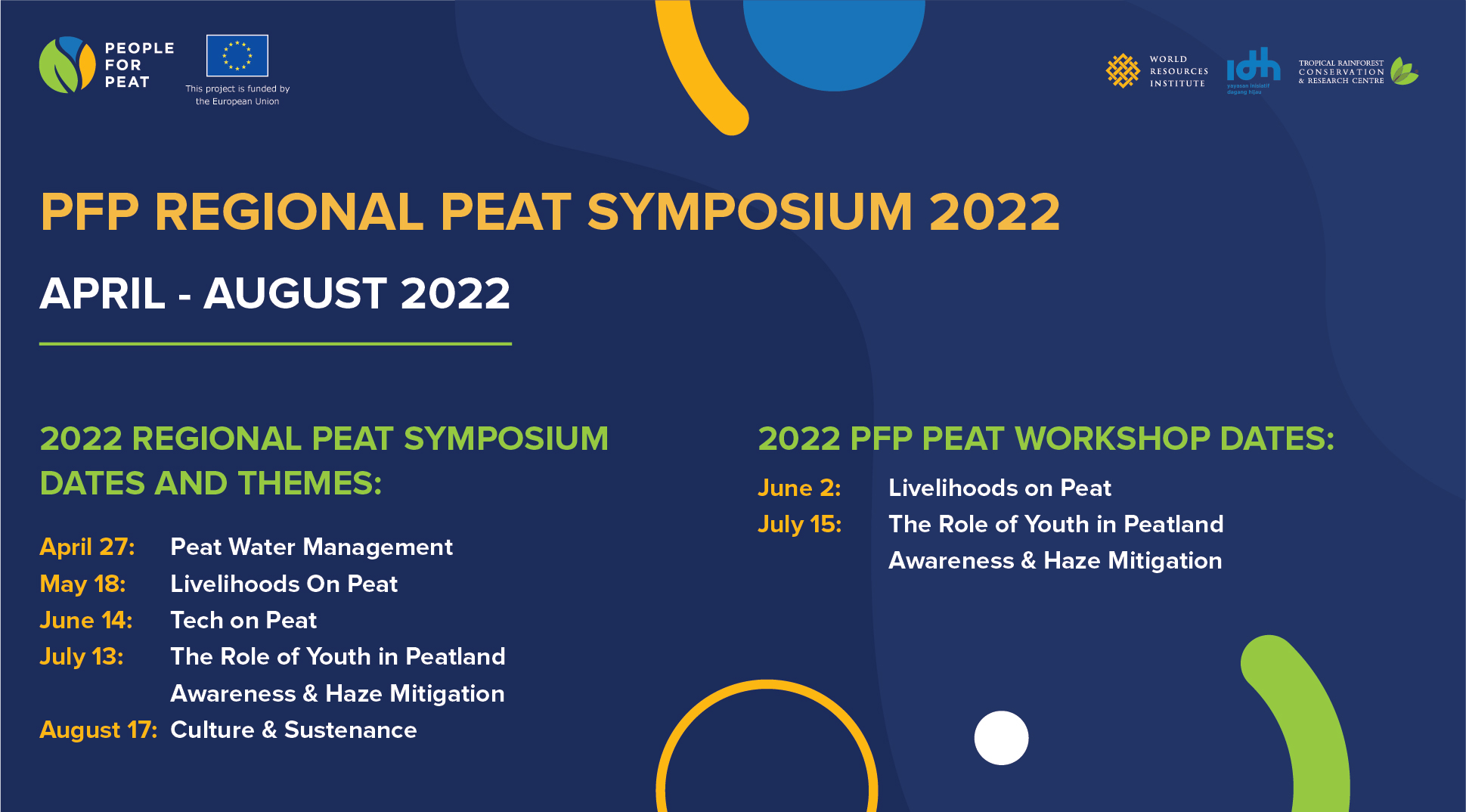 2022 Regional Peat Symposium Dates and Themes:
April 27: Peat Water Management
May 18: Livelihoods On Peat
June 14: Tech on Peat
July 13: The Role of Youth in Peatland Awareness & Haze Mitigation
August 17: Culture & Sustenance
2022 PFP Peat Workshop Dates:
June 2: Livelihoods on Peat
July 15: The Role of Youth in Peatland Awareness & Haze Mitigation